Discover more from Supercreator
The premier politics newsletter for the creative class
Over 2,000 subscribers
Is Prime Day really worth it?
It's undeniable how valuable Amazon's two-day shopping event is for members, shareholders, and executives. But the cost is an overextended warehouse and delivery workforce who pays a steep toll to mak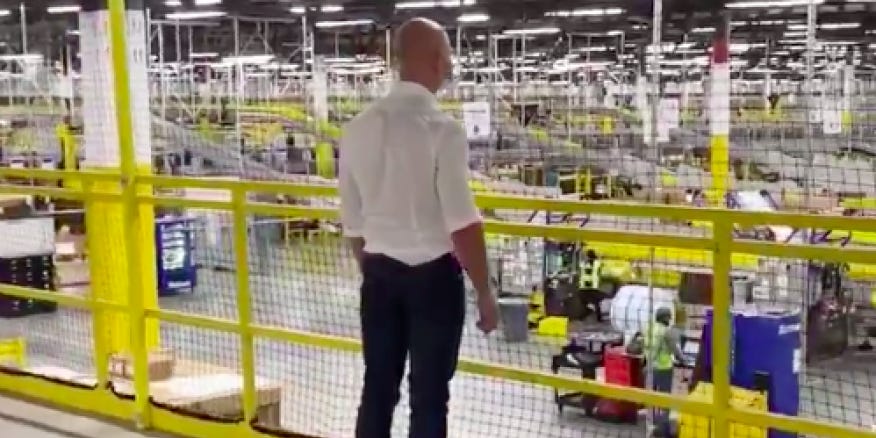 Amazon CEO Jeff Bezos looks on during a surprise to a Dallas warehouse in April 2020. Photo courtesy of Amazon
Amazon has had a busy past few months. With Americans bunkered down inside their homes amid regional lockdowns — designed to slow the spread of the coronavirus — the Seattle-based tech company saw its revenues skyrocket 26 percent from the previous year to $75.5 billion by the end of March. For what's usually Amazon's slow season, these figures represented the highest on record.
The pandemic, which required Amazon to temporarily pause inventory for products deemed nonessential and hire 175,000 warehouse and delivery workers, would also disrupt Prime Day, the annual shopping event launched on Amazon's 20th birthday in July 2015 to celebrate its coveted Prime members. Usually held in the summer (the perfect time for a welcome mid-year sales boost), Amazon announced earlier this year that it would delay Prime Day "while ensuring the safety of our employees and supporting our customers and selling partners."
Prime Day now has a new date: October 13 and 14. (According to Annie Palmer at CNBC, the rumor mill was already churning with speculation that Prime Day would be on those two days after the company blacked out vacation requests for warehouse workers during the scheduling window.) This year, the company said, Amazon Prime members can expect access to "over one million deals across every category," including toys, electronics, and apparel. Jamil Ghani, vice president of Prime, said to CNBC that Amazon settled on a mid-October Prime Day after consultation with its global teams and adjusting warehouse operations to prioritize worker safety. Ghani added that this year's Prime Day will showcase small- and medium-sized businesses; yesterday, Amazon began giving Prime members a $10 Prime-Day credit if they spend $10 on items sold by select small businesses on the site.
Prime Day is an obvious value boon for consumers, who are some of the most well-perked shoppers on the planet. Amazon proudly promotes the unmatched mix of free-and-fast delivery, exclusive deals, grocery savings (it acquired Whole Foods Market in 2017), and on-demand access to movies, TV, music, and games. Less publicly discussed though is how Amazon is able to keep its prices so low in the first place. As I wrote in March, Amazon's e-commerce marketplace and Prime membership are what consumers probably associate the company with. But most consumers are unaware of Amazon's high margins from its cloud-computing and advertising businesses, which prop up the popular consumer services.
Amazon Web Services generated nearly $10 billion in revenue for Amazon during the first quarter of 2020. "That figure sounds like peanuts compared to the $141.25 billion from e-commerce sales," I wrote at the time. "But AWS doesn't require the massive fulfillment infrastructure required to ship packages all over the world, which means Amazon keeps more of what they make from AWS sales versus marketplace transactions." Meanwhile, Amazon Advertising generated $14.1 billion in revenue in 2019 — up nearly 40 percent in 2019, carving into what once was a digital-advertising duopoly dominated by Google and Facebook. And since Amazon already has the technology and distribution that advertisers rely on to reach new customers, eliminating much of the overhead required from Marketplace and Prime for fulfillment and content. From my previously linked March post: "The economics of Amazon's hybrid business model enables them to make plays that most businesses could only dream of. When retail, web services, content, fulfillment, or digital advertising is your only business offering, you can't afford to subsidize low-margin products with the fruits of your money-making labor.
Shoppers aren't the only beneficiaries of Prime Day's lucrativeness. Amazon's stock is one of the top-performing in history. And it's due in large part, argued Pascal-Emmanuel Gorby in a 2017 article for The Week, to Amazon CEO Jeff Bezos's brand of consumer capitalism. "Consumer capitalism actually aligns with what economic theory says corporations are for: Delivering goods and services to customers. That is their social function," wrote Gorby, who insisted that everything else from jobs to stock-price appreciation is a byproduct. "A company that really puts the interests of consumers first won't be good for shareholders or employees over the short run, but it will over the long run." And since Amazon shareholders focus their investments in the long-term, they do well even though Amazon often forsakes short-term profits in the process. "And as shareholders benefit, so do employees, since their compensation is tied to the stock price," Gorby wrote.
The commercial success of Prime Day now has competitors contorting their business models to generate some of Amazon's lightning in a bottle. The first Prime Day lasted 24 hours and spanned nine countries including the US, UK, Spain Japan, Italy, Germany, France, Canada, and Austria. A year later, Prime Day surpassed the previous year's sales by more than 60 percent worldwide, and more than 50 percent in the U.S. Customers in the US, UK, Spain, Japan, Italy, Germany, and Austria, France and Belgium, and Canada shopped the event. Prime Day 2017 was 30 hours and tens of millions of Prime members made a purchase — more than 50 percent higher than the prior year. In 2018, the event lasted 36 hours from start to finish and was the biggest global shopping event in Amazon history. And last year, Prime Day ran for 48 hours, bumped the previous year's bragging rights as the largest shopping event in Amazon history, surpassed the previous Black Friday and Cyber Monday combined, and served 18 participating countries including the US, U.K., Spain, Singapore, the Netherlands, Mexico, Luxembourg, Japan, Italy, India, Germany, France, China, Canada, Belgium, Austria, Australia, and United Arab Emirates. So it should come as no surprise that retailers like Target, which announced two days of digital deals on hundreds of thousands of items, are running Prime Day counter-promos to attract shoppers.
But Amazon's relentless "customer obsession" — paired with the consumer and shareholder perception that convenience is a commodity instead of the luxury it actually is — has marginalized the interests of the company's working class. Remember: It's the workers who pick, pack, ship, and deliver the millions of items purchased on Prime Day and are fundamental to the perception that this massive operation runs without a hitch. And from their vantage point, you wouldn't be wrong to wonder if Prime Day is worth the pressure to perform it creates for these unsung heroes.
In a new report published by Reveal from The Center of Investigative Reporting last week, Will Evans uncovered a paper trail on worker safety that runs counter to the public narrative Amazon officials portray. "With weekly data from 2016 through 2019 from more than 150 Amazon warehouses, the records definitively expose the brutal cost to workers of Amazon's vast shopping empire — and the bald misrepresentations the company has deployed to hide its growing safety crisis," Evans wrote. The report cites internal data that shows injury rates have spiked during the weeks of Prime Day and Cyber Monday; for all of 2019, those two weeks had the highest rate of serious injuries. And on Prime Day 2019, which you may recall was the company's biggest shopping event in its history, nearly 400 serious injuries were recorded across the country.
Amazon said its more than a billion dollars worth of investments in safety training and education programs, technology, and infrastructure are working and named improved ergonomics, guided physical and wellness exercises, mechanical workstation assistance equipment, and parking lot improvements as examples. And as it touted Amazon's $15 minimum wage, benefits including full health, vision and dental insurance, a 401(k) with a 50 percent company match, up to 20 weeks of paid parental leave, a program that pre-pays 95 percent of tuition for courses in high-demand fields, and improved onboarding based on academic research, the company also pushed back on Evans's reporting. " Reveal is misinformed and guided by a sense of activism rather than journalism. The reporter is misrepresenting data, and the very internal documents he claims to have obtained ultimately illustrate one thing — we have a deep focus on the safety of our teams," a spokesperson said in a statement to The Supercreator. "While we often accommodate employees with restrictions so that they can continue to work with full pay and benefits, we don't believe an employer should be penalized when it encourages an associate to remain away from work if that will better promote their healing." (Evans responded to Amazon's statement in a Twitter thread.)
But it's difficult to view Reveal's reporting as an activist takedown when Amazon's own warehouse employees have been sounding the alarms on the very issues the company disputes for the better part of the year. In March, The Supercreator linked to reporting from The Washington Post that spotlighted concerns from workers that the company was inadequately protecting them from COVID-19. (Last week, Amazon disclosed that more than 19,000 workers, or 1.44 percent of the total, contracted the virus this year; this total excludes Amazon's network of third-party delivery drivers.) Soon after, Amazon fired Chris Smalls for organizing a walkout at a Staten Island fulfillment center to protest Amazon's decision to keep the facility open despite allegations of a COVID-19 outbreak. (Amazon said it fired Smalls for showing up to work after being exposed to the virus by another worker.) Days later, Paul Blest at Vice News obtained leaked notes from an internal Amazon leadership meeting that revealed a strategy to cast Smalls as not smart or "articulate." Scrutiny from the local, state, and federal levels of government immediately followed: First, Bill de Blasio, New York City's mayor, said that his office would immediately act if the investigation found Amazon violated the city's human rights law. Then, New York attorney general Letitia James that it may have violated federal safety standards for providing "inadequate" protections to New York warehouse workers and broken the state's whistleblower laws when it fired Smalls.
If that's not enough: Tim Bray, one of Amazon's own executives, resigned in protest this past spring when Amazon fired Emily Cunningham and Maren Costa on the spot for whistleblowing. Bray said he escalated the chain of command but ultimately quit because "remaining an Amazon VP would have meant, in effect, signing off on actions I despised." And per a five-byline report from April Glaser, Olivia Solon, Cyrus Farivar, Adiel Kaplan and Ezra Kaplan at NBC News, Amazon's lack of oversight and transparency has left employees feeling in the dark on COVID-19.
This brings us back to next week's Prime Day, which, no matter how prepared Amazon believes itself to be, will still occur during an ongoing pandemic that infected an average of more than 40,000 Americans — including Donald and Melania Trump — and killed 700 of them in the past seven days alone. There's a chance none of this will matter though. "I expect there will be folks showing up for Prime Day shopping for themselves, some shopping for needs, some shopping for wants, others shopping for giftable items for the holiday, others trying to knock out their holiday shopping list early in order to spend some more time later with loved ones," Amazon Prime VP Ghani said into CNBC. What he didn't mention was that workers like the ones at Amazon's DEN3 warehouse in Thornton, Colorado would have to work 11-and-a-half hour shifts of "mandatory extra time" between now and then to make it happen.