Discover more from Supercreator
The premier politics newsletter for the creative class
Over 2,000 subscribers
Repeller and Quibi say sayonara
The closing of the fashion website and streaming app are the latest examples of how our relationships with media have evolved with the social internet.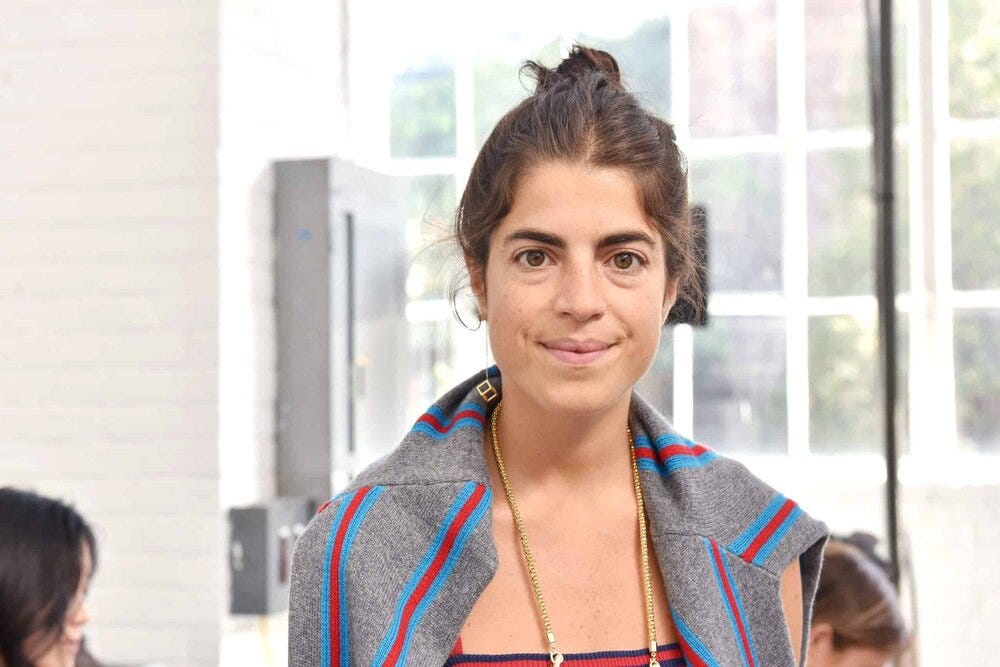 Repeller founder Leandra Medine Cohen
Today, Alexandra Mondalek at Business of Fashion reported that Repeller, a popular fashion website formerly known as Man Repeller, announced plans to close the publication in a team Zoom call on Monday. "I am confirming that Repeller, formerly Man Repeller, is ending operations and offering employees severance pay," founder Leandra Medine Cohen said in a statement to BoF. "The company has been self-funded by its operations since its launch ten years ago as a personal blog but due to financial constraints, we are no longer to sustain the business."
At the start of the pandemic, Man Repeller laid off several employees, including Crystal Anderson who publicly shared her experience of feeling undervalued by Cohen and less favored than other employees at the company. Cohen wrote a post on racial injustice after George Floyd was murdered that received immediate backlash. On June 10th, Cohen announced that she would be stepping back from her operational role at Repeller after realizing, "I didn't really understand the responsibility that comes with leadership." In August, she returned to the brand "in an updated, less operational role." And last month, Repeller unveiled a new site design and shorter brand name, intended to "[extend] beyond the surface level of what Repeller simply looks like and actually reimagines what it is." (Emphasis theirs.)
Mondalek said that Cohen ceased operations while the company still had enough cash to offer employees severance instead of pursuing paths to profitability. Employees are expected to receive a follow-up announcement regarding severance pay on Friday. And it's unknown if Repeller will preserve the site's content online. (Repeller did not respond to a request from The Supercreator for comment on if the response to Cohen's posts contributed to the decision to close the business.)
This news comes a day after Quibi, a new, well-funded short-form video-streaming app, announced that would shut down and return $350 million to investors rather than borrow time through another big investment. "With the dedication and commitment to our employees and the support we received from our investors and partners, we created a new form of mobile-first premium storytelling," Quibi co-founders Jeffrey Katzenberg and Meg Whitman said in an open letter. "And yet, Quibi is not succeeding. Likely for one of two reasons: because the idea itself wasn't strong enough to justify a standalone streaming service or because of our timing. Unfortunately, we will never know but we suspect it's been a combination of the two. (By the way, I got it hilariously wrong on Quibi.)
Repeller and Quibi are the latest examples of how our relationships with media have evolved with the social internet. "The biggest mistake Katzenberg and Whitman made was assuming that the future of entertainment was just about watching stuff. And it's not," Protocol editor-at-large David Pierce wrote in his daily newsletter Source Code. "It's about screenshots and memes; remixes and duets; deepfaking yourself into your favorite scenes; watching stuff with your friends; getting to know your favorite creators. Quibi was old-world TV dressed like the future, while the actual future was happening elsewhere. It never had a chance." In other words, we're no longer consumers of media — we're participants in media. Meanwhile, Repeller's quirky ethos attracted a motley crew of readers who enjoyed a signature mix of vulnerable personal essays, eccentric outfit ideas and optimistic feminism. But the one-two punch of the pandemic that has killed almost a quarter-million Americans and pushed eight-million people into poverty plus a global uprising against the white supremacy that enables the privilege Cohen was too ignorant to acknowledge but too willing to embrace proved too much for even its super fans.
Black professionals also recognize that the status quo at most media companies — whether they're digital upstarts or legacy institutions — are ill-equipped structurally and culturally to support their nonwhite employees let alone publish or produce racially inclusive and socially relevant work. So they're speaking out as Anderson did about her experience at Repeller. "Black journalists understand this reality going in. But most of us assume two things: If we're creative or respectable enough, we can transform these brands from within or the commitments to diversity and inclusion from white decision-makers were made in good faith," I wrote in June. "At some point almost all of us discover that both are usually untrue — and the emotional labor required to reconcile these faulty assumptions while filing quality stories on deadline is an intense burden."
And although Quibi has failed, Katzenberg and Whitman won't be the last white people to other white people into giving them millions — even billions! — of dollars to execute an idea. This would be acceptable if the underserved and overlooked communities who have the ingenuity but not the resources to push the culture forward at scale were equitably invested in as well. As I wrote in March, "Black people and LGBTQ+ individuals are acceptable arbiters of trend and consumers of content. But these communities, of both which I am a part, are viewed as too risky, unqualified, uneducated — or whatever racist and bigoted stereotypes that could fill in the blank — when it comes to creating content, products and technology — especially if it requires funding."
None of this means I'm happy that another wave of creators will probably soon be out of work or forced into jobs that misuse (or ignore) their creativity. Next week will mark five years since I, along with some of the best colleagues I ever worked with, was laid off from Lucky, a now-defunct Condé Nast shopping magazine. It was the fourth or fifth round during my relatively brief time at the company (you stop counting after a while). And waking up without a community to share your creativity with was hard. I was sad for a long while. I wondered if I would ever get back on my feet. But eventually, I did. And, although I'm independent now, some days I still wonder if I'll get another visit from the Media Grim Reaper. I hope everyone affected at Repeller and Quibi can sustain themselves until their next opportunity.
As for the founders, I hope Katzenberg and Whitman step aside and make room for a new diverse generation of creators to claim space and tell stories backed, of course, with the resources they deserve. I know it's rich of me, in my thirty-something-year-old glory to tell two executives who have been doing their thing longer than I've been alive to take a seat. But I do so with humility and an understanding that at some point in a few decades I'll be expected to do what I'm asking of them.
As for Cohen, she's already spoken for herself. "I'm really lucky that I have a platform. It would have been foolish to go away forever, even more to not use this opportunity (privilege, really) to critically examine what I put in the world and how it impacts those who engage with it," she wrote in August. "I do know I'm going to keep trying really fucking hard to act in my desired integrity, and that I won't let fear get in the way. It's going to be messy, I am sure, but I hope you'll stick around." And I hope she honors her word. Because Repeller and Quibi may soon no longer exist two companies, the inequities that their founders have left behind are unlikely going anywhere soon.
---
FYI
I'll see you next month! Your boy is taking a Fall Break next week — so instead of new posts, you'll receive The Supercreator Rewind, a weeklong series of stories, conversations and essays from the archive that you may have missed (or won't mind reading again!).
---
Read All About It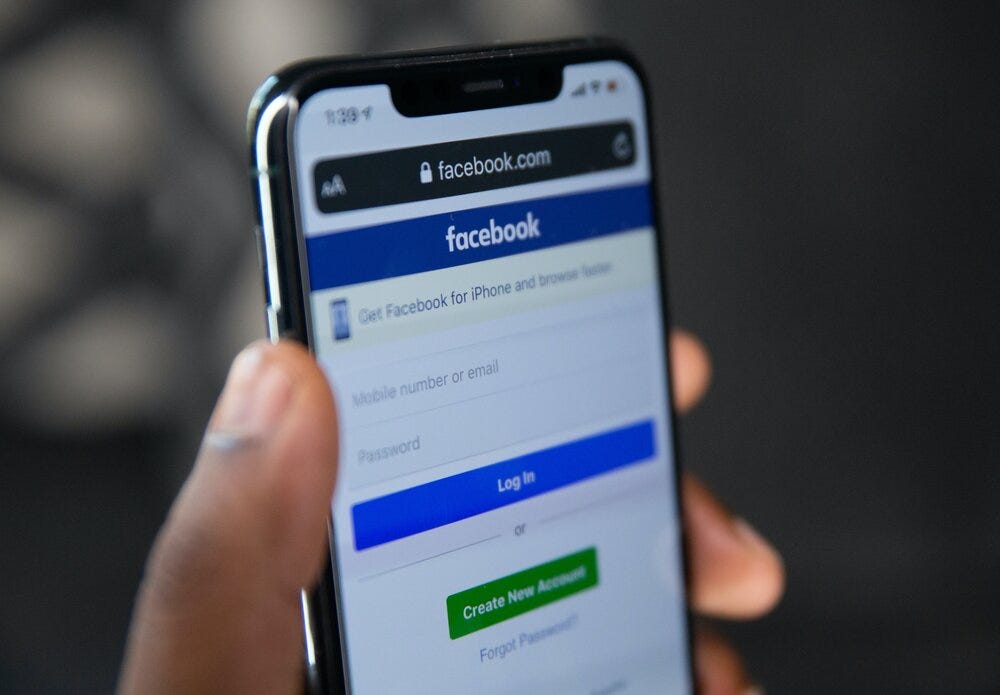 Elizabeth Culliford at Reuters on Facebook's Oversight Board, which is now accepting cases for review:
The board, which will only be able to review a small slice of Facebook and Instagram content, said it would share details on its first cases in the coming weeks and open a public comment process. A maximum of 90 days is given for the board to reach case decisions and for Facebook to act on them.
Sean Illing at Vox in conversation with media critic Jay Rosen on how to fix the broken press:
As an institution, the American press has a thin tradition of self-reflection. Part of the reason is it's hardly an institution at all. It's a collection of newsrooms that kind of operate in a similar way, but there's no council that unites it. There's no CEO of the press. If a Martian landed and said, "Take me to the media's headquarters," where would you take them?
Lacey Rose at The Hollywood Reporter on Shonda Rhimes:
Though Rhimes has at least 12 other projects — a romance thriller, a time-travel drama, a coming-of-age comedy — in various stages of development, she's aware of the growing industry chatter about whether megadeals like hers are worth their price tags. Rhimes acknowledges that it's a valid question, just not one she's equipped to answer. "It's not my place," she says. At the same time, she makes clear that she never envisioned Netflix being a four- or five-year pit stop on her creative journey: "I don't know what it is for other people, and to hop in and hop out of a megadeal might not make sense, but for me it's about a much longer haul."
Irin Carmon at Intelligencer on the growing number of liberal lawyers want more than court-packing:
There is a new, defiant energy among many of the top left-leaning lawyers who once revered the courts, even expected them to save us from Trump. Some are trying to get Democrats to play judicial hardball; others are promoting the various proposals percolating to expand the courts or strip them of their power, and yet more are making deeper critiques of how the legal system rewards the powerful. Those most committed to institutional norms are suddenly talking about tearing it all down.
Vanessa Friedman at The New York Times on Display Copy, a new magazine joins that explores the joys of upcycling:
It turns out that the challenge of working with old stuff, of reinventing it, whether with technology or design (or both), has opened up whole new realms of intellectual and aesthetic possibility in the way that problem-solving often does. As Display Copy reads, "our intention is to celebrate the ingenuity we find in ourselves when we are determined to preserve the things we love."
Jeffrey Goldberg at The Atlantic on the case against Donald Trump:
The Atlantic has endorsed only three candidates in its 163-year history: Abraham Lincoln, Lyndon B. Johnson, and Hillary Clinton. The latter two endorsements had more to do with the qualities of Barry Goldwater and Donald Trump than with those of Johnson and Clinton. The same holds true in the case of Joe Biden. Biden is a man of experience, maturity, and obvious humanity, but had the Republican Party put forward a credible candidate for president, we would have felt no compulsion to state a preference. Donald Trump, however, is a clear and continuing danger to the United States, and it does not seem likely that our country would be able to emerge whole from four more years of his misrule. Two men are running for president. One is a terrible man; the other is a decent man. Vote for the decent man.
---
Feedback
If you're enjoying what you're reading, please recommend the newsletter The Supercreator. They can sign up here. If you want to share your thoughts on an item from this post or on The Supercreator in general, reply to a newsletter or email me at michael@thesupercreator.com.
---
Super Picks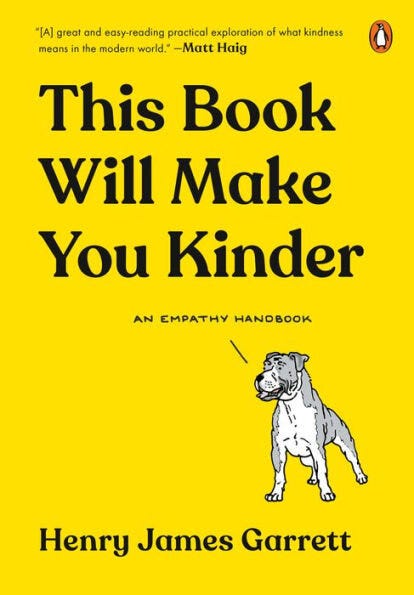 This Book Will Make You Kinder: An Empathy Handbook: I'm looking forward to absorbing this book while I'm off next week to imagine new ways to practice kindness at work and in life. (Email me if you want to join me and we can turn it into an informal book club situation!)