Discover more from Supercreator
The premier politics newsletter for the creative class
Over 1,000 subscribers
Poll Workers: The unsung heroes of the upcoming election
Businesses and nonprofits have mobilized to erase the pandemic-fueled poll-worker shortage. Our democracy (and the creative class) will be better for it.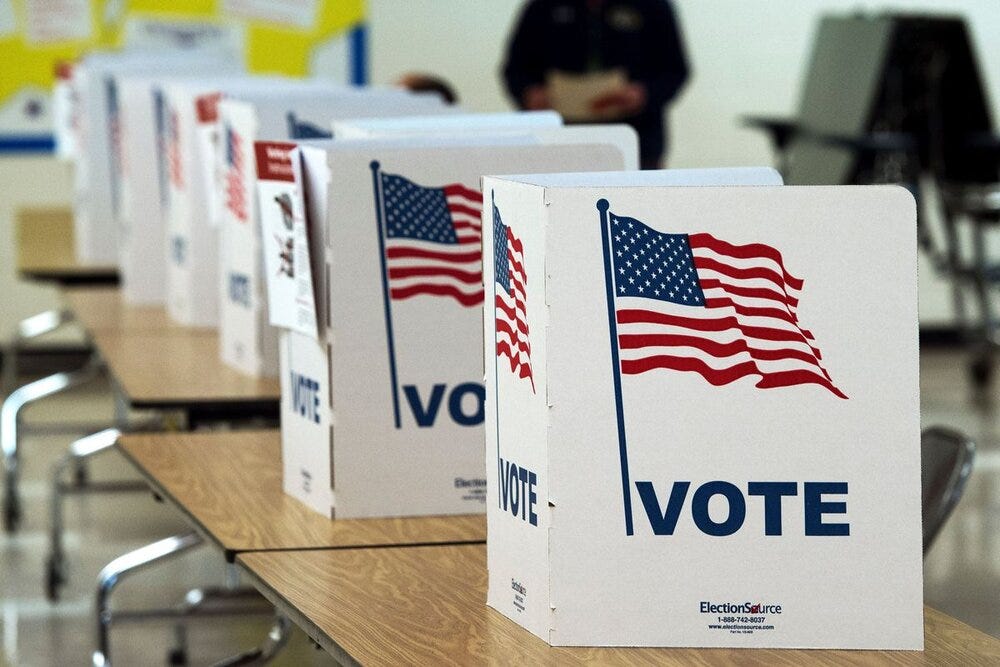 Anybody who's somebody has made it their mission to get you registered to vote. In March, forever First Lady Michelle Obama announced When We All Vote, her own nonpartisan voting initiative, which she hopes will enable greater access to voting by mail, early in-person voting and online voter registration. A few months later, Facebook CEO Mark Zuckerberg set forth a voter information campaign designed to register four million people to vote. Weeks after that, NBA superstar LeBron James launched More Than a Vote with a group of current and former basketball players.
Voter registration is only one part of the equation though. The other is actually casting your vote. And poll workers are essential to making sure that the process is free and fair for all of us.
Poll workers do it all. They help voters check in, understand their ballots and then cast them. And this year, they'll help voters maintain physical distance in lines, wipe down machines and equipment and open and count absentee and mail-in ballots. In previous elections, a lot of poll workers have been over the age of 60. But the pandemic has us faced with a significant shortage. (According to the Centers for Disease Control and Prevention, eight out of 10 COVID-19-related deaths reported in the United States have been among adults aged 65 years and older).
So businesses and nonprofits are mobilizing to fill the void: Old Navy, Target, eyewear company Warby Parker and fashion brand Tory Burch are among the growing list of companies that have already committed to paying store employees who serve as poll workers for eight hours of work. And Power The Polls, an initiative to recruit a new wave of poll workers to staff in-person voting locations and ensure a safe and fair Election Day for all voters, drove a campaign to sign up 250,000 low-risk and diverse poll workers. "Since seniors are at higher risk of serious illness and death due to COVID-19, non-seniors need to step up and fill those roles," Eitan Hersh, associate professor of political science at Tufts University, said. "I think it's great for companies to help make it happen."
Especially since voter suppression has been on the rise after the Supreme Court gutted the Voting Rights Act in 2013. The VRA made it illegal to deny a citizen the right to vote based on race. According to the Brennan Center for Justice at New York University Law School, a non-partisan law and public policy institute, the disparity in registration rates between white and black registration rates dropped from nearly 30 percentage points in the early 1960s to eight just a decade later. When the VRA was last reauthorized by both chambers of Congress and signed by George W. Bush, it received sweeping bipartisan support — in fact, it passed unanimously in the Senate.
The legislation's linchpin was Section 4 — or the "coverage formula" — that determined which jurisdictions had to "preclear" changes to their election rules with the federal government before implementing them, based on their history of race-based voter discrimination. The Brennan Center notes that within 24 hours of the Court's 5–4 decision to strike down the coverage formula, Texas announced that it would implement a strict photo ID law. Meanwhile, Mississippi and Alabama also began to enforce photo ID laws that had previously been barred because of federal preclearance. And as I wrote in March, North Carolina has been a case study in how partisan gerrymandering disenfranchises Black people specifically and Democrats more broadly.
If Republicans are unable to keep registered voters from turning out, then their Plan B is to intimidate voters from exercising their rights at the polls. Case in point: In August, Donald Trump told Fox News host Sean Hannity that he wanted to send law enforcement officials to polling places. To be sure, this is illegal. But, as Riley Beggin wrote for Vox, "his messaging may inspire local action, and even the prospect of having figures of authority like police guarding polling places could have the effect of intimidating voters and discouraging them from turning out to vote." This makes poll workers the MVPs of this year's election.
In a statement to The Supercreator, Target spokesperson Jessica Carlson said that the company has provided its team members in stores, supply chain and headquarters with paid time off to vote for many years. "Additionally, we provide all eligible team members with paid time off to serve as election judges in their communities, and are proud to support the Civic Alliance's Election Day of Service initiative to help address the country's urgent need for poll workers and safe, accessible elections in 2020." A rep for Warby Parker pointed to this statement from Co-Founder and Co-CEO Dave Gilboa when asked about what motivated the company to pay its employees to work the polls: "Voting is a fundamental right and as business leaders, it's our responsibility to protect the right to vote for our employees and communities. To ensure a safe and equitable election this November, polling centers must remain open for those who need to vote in person." And an Old Navy spokesperson made it clear that the company is nonpartisan but told The Supercreator that it believes we are all better when we engage in the [democratic] process. "We are committed to removing roadblocks so employees don't have to choose between serving or voting and work," the spokesperson said. "We felt this was a new and unique way to provide the opportunity and encouragement to our employees across the country to become more involved in the democratic process without worrying about sacrificing work." (Old Navy is also offering store employees up to three hours of paid time off on Election Day to vote.)
Another threat to poll-worker recruitment is what Hersh calls "political hobbyism" in his book Politics Is For Power. Most of us "participate in politics by obsessive news-following and online slacktivism, by felling the need to offer a hot take for each political flare-up, by emoting and arguing and debating, almost all of this behind screens," Hersh said to Vox's Sean Illing in February. "Political hobbyist is a catchall term for the person who spends a lot of time consuming news or signing online petitions or engaging online with people about this or that issue. They mistake this for actual politics, but it's not because it doesn't contribute to power-building."
I emailed Hersh to get his take on if there's less hobbyism in our politics and he told me that he's unsure where we stand now since his data mostly came from surveys around the 2018 and 2016 elections. He added: "What I try to do in the book is hold a mirror up to readers and ask them: does their political engagement feel like hobbyism or like a goal-oriented work?" Hersh uses the Black Lives Matter marches from this summer: "Many Americans participated in BLM marches this summer. In my view, those marches are a first step to real politics. Did participants follow up by advocating for concrete policy change in their municipal police departments or states? If the march was the start and the end to their engagement on that issue, it feels more like hobbyism. But that's for each reader to grapple with for themselves." (For what it's worth, support for Black Lives Matter has decreased between nine and 12 percentage points since June.)
The stakes are obviously high for our country in this election. "It's the temperament and leadership of the President, it's his choice of judicial appointments, it's his conduct in foreign affairs, it's his ability to get others to go along with him on policy priorities," Hersh said. And for the creative class in particular, it's critical to recognize the role government — whether you prefer it big or small — and those we elect to govern play in how we work and live in the new economy. After all, most successful creative professionals share two commonalities: They have access to the resources they need — like affordable housing in safe communities, quality health care and paths to continuing education — and ownership of their work, the economic value it generates and the relationship they've developed with their fans. Almost every policy decision at the local, state and federal level will impact your creative lifestyle going forward. And while no elected official will ever satisfy all of our priorities, elections are about who turns out. Poll workers support those who turn out to have their voices heard.
A spokesperson for Power The Polls told The Supercreator that in addition to activating businesses to offer their employees flexibility on Election Day, part of its work is educating potential poll workers on the opportunity to get paid to work the polls. And it seems to be working. "We're so grateful for the many organizations, officials, and Americans who are stepping up to ensure we fill the poll worker shortage ahead of Election Day, and we're now setting our sights on recruiting another 100,000 people who want to be poll workers," Scott Duncombe, Co-Director of Power the Polls, said. "We can't slow down — we won't stop until every poll worker position in the country is filled."