Discover more from Supercreator
The premier politics newsletter for the creative class
Over 1,000 subscribers
The $185 million campaign against gig workers
Uber, Lyft and DoorDash are all-in to pass Prop 22, a California ballot initiative that would allow app-based companies to withhold equitable benefits and protections from drivers and couriers.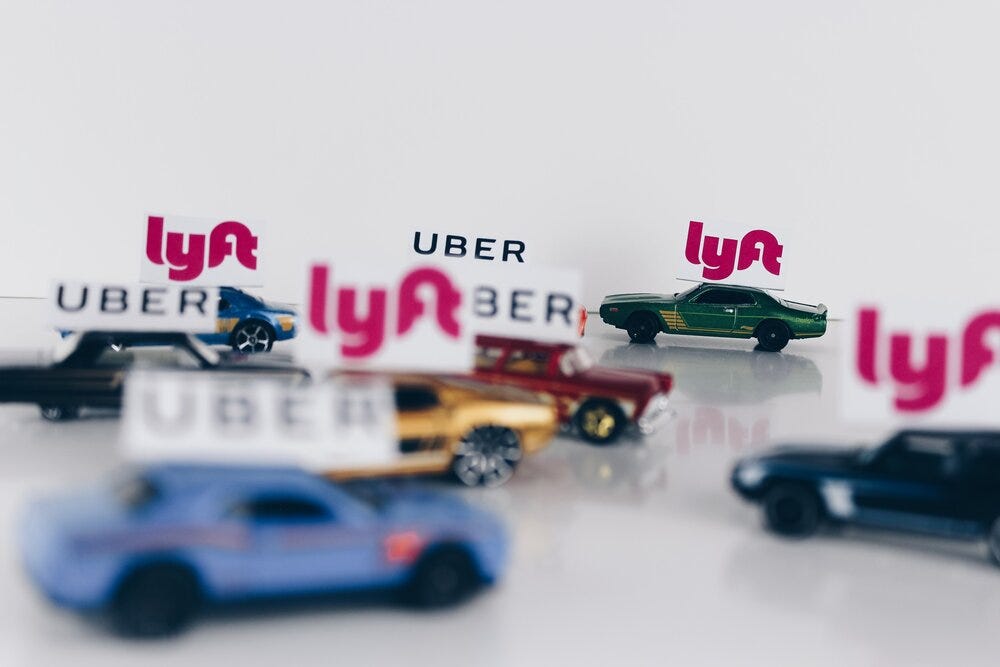 Last week, Uber interrupted riders with an aggressive push notification asking users to vote early on Proposition 22, a convoluted initiative on the California Election Day ballot that would enable "app-based businesses" like Uber, Lyft, and DoorDash to classify drivers and delivery workers as independent contractors. (Businesses are exempt from extending employee benefits like minimum wage and employer-sponsored health care to independent contractors.) A day later, Mike Moffit at SFGATE reported the delivery of pro-Prop 22 political mailers to Southern California voters that were disguised as progressive voter guides.
Prop 22 is a direct response to AB 5, a law signed in September 2019 by California Governor Gavin Newsom that established a three-factor "ABC" test to decide a worker's status as an independent contractor, while providing exemptions to some types of freelancers, such as architects, doctors, insurance agents, lawyers, grant writers, real estate agents, tutors, truck drivers, and manicurists.
In August, a San Francisco judge ruled that Uber and Lyft had to reclassify their California drivers as employees in response to a request from Xavier Becerra, California's attorney general. The two companies responded by threatening to suspend operations in the Golden State, which, according to Preetika Rana at The Wall Street Journal, accounted for nine percent of Uber's and 16 percent of Lyft's pre-pandemic worldwide ridership.
The California Democratic Party has endorsed a "no" vote for Prop 22, which has raised $184.3 million to date through Protect App-Based Drivers And Services, a political action committee to support the initiative — including $50.1 million from Uber, $48.3 million from Lyft, and $47.7 million from DoorDash. US Sens. Elizabeth Warren and Bernie Sanders, Rep. Barbara Lee, and the Democratic nominees for president and vice president Joe Biden and Kamala Harris are also against the initiative. (Harris is currently a California's junior senator too.) Supporters of Prop 22 include the Republican Party of California, Instacart, Postmates, and the aforementioned trio of ride-hailing and delivery apps.
Uber and Lyft claim that drivers aren't core to their businesses because they are technology — not transportation — companies. As Shirin Ghaffary at Recode explained, Uber's position is that its "core business is providing technology that connects people to each other. Drivers are free to accept or decline rides as they please, so they are not employees of Uber but rather customers of its marketplace, just like the people who take rides."
In an op-ed published by The New York Times in August, Uber CEO Dara Khosrowshahi argued that drivers don't want to be employees because they have "total freedom to choose when and how they drive, so they can fit their work around their life, not the other way around." He pointed to a recent survey commissioned by Uber and other companies which found that two out of three app drivers would stop driving if their flexibility is compromised.
If Prop 22 passes, a confusing algorithm would pay California app workers "the difference between a worker's net earnings, excluding tips, and a net earnings floor based on 120 [percent] of the minimum wage applied to a driver's engaged time and 30 cents, adjusted for inflation after 2021, per engaged mile." Prop 22 would also limit app-based drivers from working more than 12 hours during a 24-hour period unless the driver has been logged off for an uninterrupted six hours. (It's unclear if Prop 22 would require Uber and Lyft to remunerate to California the estimated $413 million in unpaid state unemployment insurance taxes from 2014 to 2019.) The wage policy, despite its perplexity, is tailored to part-time individuals who work for multiple network companies and would go beyond what an employee would be entitled to under federal and state law, where you would need to work at least 30 hours to receive any type of benefit, according to Geoff Vetter, a spokesperson for the Yes on 22 campaign. (Taylor Bennett, global head of public affairs at DoorDash, referred The Supercreator to Vetter when asked to comment on a series of company-specific questions worker implications of Prop 22.)
As a reminder, the average Uber driver earns $9.21 per hour, which equals less than $10,000 a year ($9,578.40) for part-time drivers without paid-time-off for vacation or sick days. For perspective, Even on a full-time salary of $19,156.80, drivers would fall below the poverty line in all 50 states. In my criticism of Khosrowshahi's op-ed, I wrote: "No one is questioning that drivers, like most workers, want more flexibility, not less. But what good is that flexibility when your quality of life prohibits you from actually enjoying it?"
Gig workers account for nearly one in eight worker deaths, according to a 2019 study published by the Bureau of Labor Statistics. (In Uber's first-ever safety report, it disclosed 10 murders in 2017 and nine in 2018; seven victims were drivers, eight were passengers, and four were third parties, like bystanders outside the Uber vehicles, the company said.) And while three out of four independent contractors have access to insurance — mostly through the Affordable Care Act, as many as a quarter of non-traditional workers report forgoing medical treatment because of high costs.
Prop 22 would require companies to provide health-care subsidies equal to 41 percent of the average California Covered (CC) premium for each month for drivers who average between 15 and 25 hours per week of engaged time during a calendar quarter; companies would be mandated to subsidize 82 percent of the CC premium for drivers who average at least 25 hours per week of engaged time during a calendar quarter. The initiative would also require companies to provide or make available occupational accident insurance to cover at least $1 million in medical expenses and lost income resulting from injuries suffered while a driver was online and provide disability payments of 66 percent of a driver's average weekly earnings during the previous four weeks before the injuries suffered for up to two years. A driver's spouse, children, or other dependents would be eligible for a company-provided accidental death insurance benefit when the driver dies while using an app. Uber and Lyft did not respond to a request for comment on how the Prop 22 subsidies compare to the benefits corporate employees receive so it's hard to know how generous these benefits actually are. DoorDash declined to comment.
According to the previously cited safety report, people in the US took over two billion Uber rides in 2017 and 2018. The company received 5,981 allegations of serious sexual assault — nonconsensual kissing of a nonsexual body part, attempted nonconsensual sexual penetration, nonconsensual touching of a sexual body part, nonconsensual kissing of a sexual body part, and nonconsensual sexual penetration — which account for less than a tenth of a percent of rides. (Uber did not report other types of sexual misconduct like masturbation, asking for sex, or verbal threats of assault.)
But while these serious sexual violence instances are rare, Prop 22 would require app-based companies to develop training programs for drivers related to recognizing and reporting sexual assault and misconduct, driving, and accident avoidance plus zero-tolerance policies for driving under the influence of drugs and alcohol. The ballot measure would also require criminal background checks for drivers and criminalize false impersonation of an app-based driver as a misdemeanor. "[Prop 22] would require app-based delivery and rideshare companies to establish a process for app-based drivers, customers, and rideshare passengers to submit complaints that ensure confidentiality to the extent possible, an impartial and timely investigation, and remedial actions and resolutions based on the information collected during the investigation process," Geoff Vetter, the Yes on 22 spokesperson said in a statement. Uber and Lyft did not respond to a request for comment when asked what has prevented the companies from funding and implementing these common-sense programs and policies now.
The companies also did not respond when asked what direct economic impact the failure of Prop 22 would have on their businesses. But in a report released last year, equity research analysts at Barclays estimated that reclassifying workers would require an investment of $3,625 per driver in California, which would push Uber's annual operating loss up by more than $500 million and Lyft's by $290 million. "We're confident the voters will pass Prop 22, but we know a forced employment model will have devastating consequences for drivers and consumers who use these services," Vetter, the Yes on 22 spokesperson, said. He estimated rideshare costs could increase by at least 25 percent and up to 100 in some areas. Food and delivery costs could potentially double — the average rideshare wait time could increase from seven to 14 minutes for food and grocery delivery times could increase from 40 minutes to an hour and 20 minutes or more. "In addition, services would likely be limited to just the dense, urban areas of the state, meaning little or no service to most Californians living in rural or suburban areas of the state."
These are reasonable concerns. But they're concerns that, to paraphrase sociopolitical comedian W. Kamau Bell, who hosts and executive produces the CNN docuseries United Shades of America, are focused on the people who use the app, not the people being used by it. Uber, Lyft, DoorDash, and its contemporaries are luxuries, not utilities. It's impossible to honor the drivers and delivery workers when the promise is a faster service for the cheapest price. Prop 22 is far short of a worker-friendly solution to this reality. What's more is that the same people who ride Lyft, shop Amazon, or order UberEats often expect creators to finagle their business models to accommodate the expectation that consumers deserve all the value for as little of the cost — even if the workers are the ones forced to sacrifice in the process.
App-based companies are the offspring of a new economy that works for fewer of us the more advanced the technology is. These executives can romanticize jobs even they wouldn't do all they want. But the reality is that most people, if given the choice, would work one job — not two or three part-time gigs — if it provided them the wages, benefits, and #flexibility they needed to earn a predictable and sustainable living. This should be the status quo. Instead, we're stuck with an exploitative hustle culture that compels the working and creative classes to work more to get less — while the rich and powerful bankroll policies to make sure it stays that way.